Farzi, the latest offering from the dynamic duo of Raj & DK, is a new Amazon Prime Video series about counterfeiting money and orchestrating a plot filled with cunning disguises and deceptions. The show marks the streaming debut of Bollywood actor Shahid Kapoor, known for delivering sincere performances in films tackling a range of topics. Despite the promise of a wild ride, Farzi falls short of expectations.
The story follows Sunny (played by Shahid Kapoor) and his childhood friend Firoz (played by Bhuvan Arora) as they team up to print fake currency to save their grandfather's debt-ridden independent magazine Kranti. The motivations behind their actions are not entirely clear, and the Marxist undertones to the Indian economy and references to Demonetization made in the show seem out of place and not integrated enough into the narrative. The dialogues are reminiscent of Salim-Javed movies at times, but the screenplay quickly transitions to a contemporary tale of con artists masquerading as messiahs.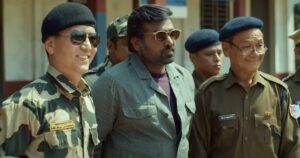 Sunny, being a talented artist, creates fake currency notes so convincing that they catch the eye of counterfeit king Mansoor (played by Kay Kay Menon) and the messianic government officer Michael (played by Vijay Sethupathi). Meanwhile, Reserve Bank of India security expert Megha (played by Raashii Khanna) is focused on exposing wrongdoing.
The strength of Farzi lies in its clear and assured screenplay, with a high-stakes journey and some low-brow social commentary thrown in. Raj & DK know exactly what story they want to tell and execute it well. However, the show lacks originality and doesn't push the boundaries in the over-saturated Indian OTT space. The use of familiar tropes and conventions from previous works like The Family Man creates a sense of déjà vu throughout the series.
The performances by the cast are solid but lack the charisma to connect with the audience. Shahid Kapoor's earnest attempt at long-form acting is commendable, but his performance comes across as banal and lacks empathy. Vijay Sethupathi shines in every scene he appears in and brings a playful energy to his character. Kay Kay Menon steals the show with his menacing performance.
The use of handheld cameras to match the restless energy of the lead actor is an interesting choice, but the lack of long single-take shots from The Family Man is noticeable. Despite its shortcomings, Farzi is still a suspenseful effort that proves the enduring viability of classic con artist tales.