The much-awaited trailer of the movie Gulmohar has been released, and it promises to be an emotional story of a dysfunctional family that is sure to tug at the heartstrings. Starring the legendary actors Manoj Bajpayee and Sharmila Tagore in lead roles, the film is directed by Rahul Chittella.
The plot of the movie revolves around the Batra family, a multi-generational family, who are all set to move out of their 34-year-old family home, Gulmohar. The decision to move out comes as a surprise to the family, especially to Kusum (Sharmila Tagore) and her son Arun (Manoj Bajpayee). The shift in their lives is a re-discovery of the bonds that have held them together as a family, along with their personal secrets and insecurities.
Gulmohar is a heartwarming family film that explores the meaning of family and home in current times. Director Rahul Chittella, along with co-writer Arpita Mukherjee, wanted to explore the idea of togetherness in times when we are building walls between each other. The film is designed to make audiences of all ages experience love and togetherness with the Batra family.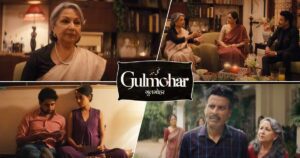 The stellar cast, which includes Amol Palekar, Simran, Suraj Sharma, Kaveri Seth, and Utsavi Jha, does justice to every single character, and each one stands out from the other. The experienced actors Manoj Bajpayee and Sharmila Tagore helped immensely in getting the junior cast members to surrender to the idea of being in an ensemble piece.
Gulmohar marks the comeback film of veteran Indian actor Sharmila Tagore, who debuted with Satyajit Ray's "The World of Apu" (1959). It also marks the feature debut of Rahul V. Chittella, who has directed a few shorts and previously worked with "Monsoon Wedding" filmmaker Mira Nair.
The film is set in Delhi, and it follows the final four days of the Batra family living in their 34-year-old family home as they move to a new city. The story of familial ties is placed against the backdrop of a home being sold and getting packed up over the next four days.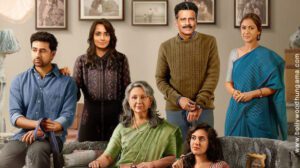 In conclusion, Gulmohar is a must-watch movie that promises to be an emotional rollercoaster ride. With a powerful cast and a heartwarming storyline, it is sure to be a hit with audiences of all ages. Gulmohar is all set to release on 3rd March 2023 only on Disney+ Hotstar.