Fursat, directed by Vishal Bharadwaj, is a short film that is now available on Disney+ Hotstar. The film stars Ishaan Khatter and Wamiqa Gabbi and is shot entirely on an iPhone. Fursat tells the story of a young man who can see into the future with a mysterious device called the Doordarshak. When he learns of a potential danger to his friend, he sets out to protect her. The film is a celebration of Bharadwaj's vision and storytelling ability, even with limited resources.
The film begins with a shocking scene and is accompanied by the meaningful Waqt song that adds to the narrative without breaking the flow. The film revolves around a robbery sequence, which is executed with a sense of urgency and is further heightened by a twist that adds a new layer to the story. Bharadwaj is known for conveying important messages through his work, and Fursat is no exception. The film ends with a scene that conveys an important message and has a sense of irony given the theme of the film.
Ishaan Khatter gives a strong performance, using body language to convey the emotions of his character. Wamiqa Gabbi is also impressive, conveying much through her expressions and silence. The film has a rich look and feel, especially in the desert sequences. The music, as is often the case in Bharadwaj's films, proves to be a standout aspect, with hummable songs that are well-filmed.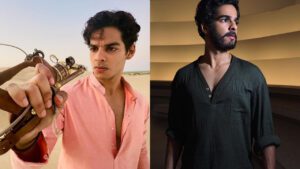 In conclusion, Fursat is a short, simple, and sweet film that caters to those looking for a meaningful tale with limited resources. The film is a testament to Vishal Bharadwaj's vision and storytelling abilities and features strong performances by Ishaan Khatter and Wamiqa Gabbi.