Hello Our Dear Readers, Welcome to our Blog. avpuc.com (Unique Creativity & Knowledge) Friends today We'll talk about The reality of Mobile Phones. Read this article to the end and know all the advantages and disadvantages of mobile phones.
So Guys some days ago, I was just set on the bed & suddenly I don't know Why and How but I started thinking about Mobile Phones. How much a crucial part of our life, This Tech has become. And I just wrote that Blog. I hope This will help you to introspect yourself. And I think it will insist you on rethink about Mobile Phone. And I hope you are not a person. What I talked about in that Blog.
WARNING: This blog is a little bit longer, so grab a Cup coffee and read it.
First Bell invented the Telephone
On 10 march of 1876, We got something very amazing. Alexander Graham Bell invented the Telephone. And really It was a miracle in the field of Communication. It opened tons of Amazing and fascinating Ways and trails in the field of communication.
Now we didn't have to wait for the letters, We didn't have to wait for long long hours to share our thoughts, feelings, and ideas with someone else, and We didn't have to wait to get the same thing from someone else. It was so great and crazy.
But there were some problems with the Telephone, We needed a physical wire connection between two Telephone to make them connected. The whole setup of Telephone was so hefty. And the biggest problem was that It was not portable. These problems were a headache for us.
First Portable Telephones
But In 1973 By the Motorola Company we got the first portable Telephone, I mean The first Mobile Phone. It was a revolutionary step in the Field of Telephony or communication. Now We have become able to carry The whole setup of the Telephone in our Tiny Hands. We didn't have to just sit around the Telephone to receive it. It was sweet as.
And after that, We started getting new features and functions in Mobile Phones like Calculator, Calander, Alarm clock, To-do list, Camera and tons of others, But in 1996 Nokia gave us something very special. We got a Mobile Phone, which was able to connect with the Internet. And suddenly we got the key to the World. We got access to the Internet in our Hands. We started sending E-mails, We started spreading our reach with the World at a Great and Fascinating pace, We started finding the answers to the baffling questions on the Internet.
And In 2007 Apple launched its first iPhone. It was a milestone in the World of Smart Phones.
In 1876 Bell gave the Telephone, But Why
Because There was a need for it. Our old communication system was so slow and lousy. We used to send our messages by Cycle, Cart, Pigeons or Dove, and sometimes by Eagle. But It was not the bested way to send a message. It was not reliable, and This system used to take to too much time to send a message. I think that's why Bell made it.
But I am sure, He was not aware of the Great new changes in the Telephone, which were about to come in his invention.
But we can understand with very ease, Why Bell made the Telephone, Why Motorola gave us the First Mobile Phone, and Why Nokia tried to make a Phone which was able to connect to the Internet. Because they wanted to Increase our productivity, They wanted to decrease the Time, which used to consume in the old communication system.
Mobile Phones
But today's question is that, How we are using these gifts, these miracles, and these felicities. We got the Mobile to make a Great increment in our Productivity, But by the same Mobile, we are killing our most of the Time. We made the Mobile be connected to the World and by the same Mobile, we are disconnecting with our Families and Friends. We made the Mobile make the Hard Calculation easy but by the same Mobile, We are making the easy additions and subtractions Hard. We made the Mobile increase the number of things to be remembered but by the same Mobile, We are diminishing our memory power. We made the Mobile spread the education, good thoughts, and great ideas with the world but by the same Mobile, We are just filling our minds with filthy and fake pieces of information.
In today's era, most People became addicted to Mobile Phones just like someone gets addicted to intoxications, Even they don't know that They are addicted.
They don't know that Mobile and Drug triggers the same area of Mind, which is responsible to make us addicted.
 Don't know that they are spending 40 minutes with YouTube, 35 with Facebook, 25 with Snapchat, 15 with Instagram, and 1 with Twitter per day. If we sum up all these numbers so we will get that An average person is spending almost 5 years and 4 months of his life on just social media. Even they don't know that these numbers are just for an average person and for them These numbers can go up to 10 and 15 years.
Try to imagine what they can't do, If they devote their 5, 10, or 15 years to achieve their goals, to make their dreams true.
They don't know with whom they are making relations on Social Media, would never stand with them in the Adversities and wrong circumstances.
And they just keep destroying their strong and most important relations with their family members. They are increasing the distances with the people who stand with them in every situation.
They always keep their Phones with them. They give more attention to their phones than their own Childs. But they don't know which thing they are keeping in their pockets, which is a Great root of many ailments. (To know more about it, You can read this)
They always keep suffering websites for getting news and other information, But they don't know that They are just being brainwashed. They are just getting fake and lousy news on the Web.
They use Social media up to late-late hours of the Night Because they think, they are having fun and They are getting Happiness, But the reality is far different. In reality, They are just getting jealousy, anger, and anxiety. They are just becoming the farmhouse of Ailments.
Most of the teenagers get the phone by pretending to study, But What they do. They just play Games, watch Videos, and do a lot of vulgar activity. They don't know they are just letting their own future destroyed. And I think their parents are more responsible for that condition because they don't know anything about their own children. They are just busy with their own virtual reality.
They don't know, They are getting Heart Problems, Memory Problems, Skin Problems, Eyes Problems, Anxiety, Asthma, and tons of more very serious problems just because of The Phone.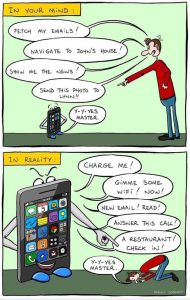 They think They are controlling the Mobile Phones but in Reality, Mobiles are controlling them. They have become the puppet. They think They make the decisions but they are insisted on making decisions.
In a nutshell, I just want to say, Mobile Phone is not a bad thing. Really This is a miracle for the whole Human race, but when we use it in the Right manner, when we use it as a productivity tool, as a communication device. Really Mobile is a Miracle for a person who doesn't have a chance to get a world-class education, This is a Miracle for a person who wants to connects with his family, This is a Miracle for a girl who has to travel at night, This is a Miracle for a person who wants to share his thoughts and ideas with the world.
Actually, It depends on us How we are using it. It just like Atomic power. We can use it to mend the lives of peoples or We can use it to destroy the whole nation. The phone makes the same impact on us. We can use it to mend our life or We can Tear down ourselves utterly.
So please friends, Just Are wise with yourself to mobile phones and try to observe yourself after reading This article.
Hey, Friends How are you all after reading it. I know It is so so so long, but I hope you loved it. Please Feel Free to comment and to give any concern. I tried to use some MEMEs in This blog to make it a little bit interesting. Tell me how much you liked it( Or hated It ).
Please Share this Article with your friends and family members.
Instagram  – Click Here
Facebook – Click Here
Twitter – Click Here
NOTE:- This Blog is in English Language and I researched a lot and tried my Best to write this but in case if you found any grammatical mistakes in this Blog, you can Comment down below. Please Cooperate with me, Keep Supporting and Keep Reading.
This Website Design & Developed By AVP Web Solution